Selecting the right vets to assist with obtaining a pet passport is essential for a smooth and successful process. Local vets are your trusted partner for obtaining a pet passport. With a compassionate team of veterinary professionals, we understand the intricacies of an experienced team. Our commitment to the well-being of your pet extends to ensuring they meet all the necessary requirements for a smooth hassle-free journey.
Local Vets is not just a clinic; we're the bridge between you and global adventures. Our expertise in pet passports combined with our team of experts and state-of-the-art facility, means your pet will receive top-notch care and attention. When you choose Croft Vets for your pet passport needs, you're choosing peace of mind, reliability, and a partner who shares your love for your four-legged family member.
What Is A Pet Passport?
A pet passport is an official document that allows domestic pets, such as dogs, cats, and ferrets, to travel internationally. It serves as a standardized record of the pet's health, vaccinations, and identification information, making it easier for pets to move between countries without lengthy quarantine periods.
As of 2021, and since Brexit, the UK no longer issues official dog passports.
When traveling abroad with your pet, you will need the following prior to traveling:
An animal health certificate or a valid pet passport
A microchip
A current rabies vaccination
Tapeworm treatment for dogs if you're traveling directly to Finland, Ireland, Norway or Malta.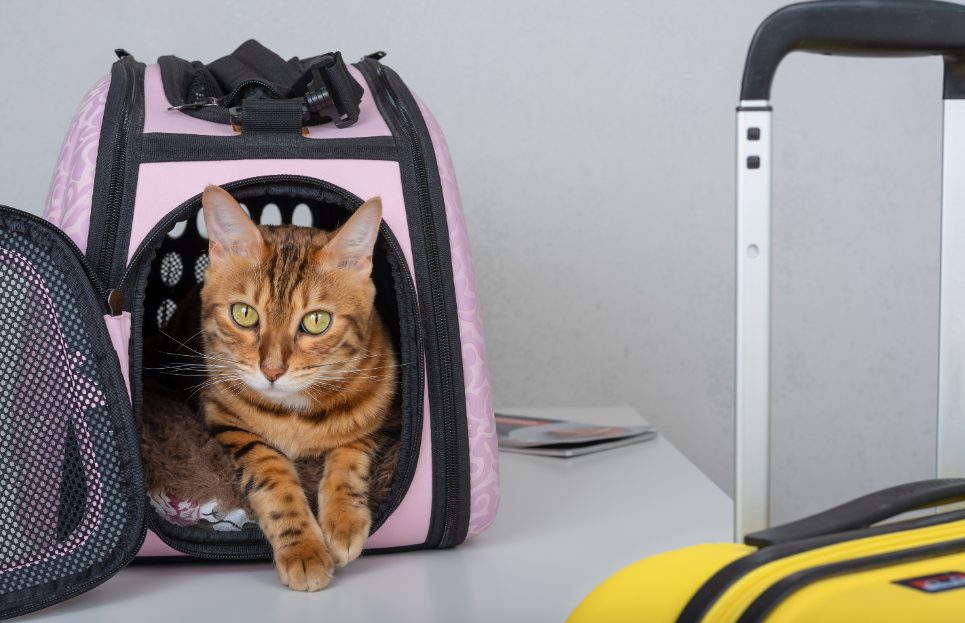 How Do You Get A Pet Passport?
Pet Passports are issued by a veterinarian in compliance with regulations and requirements of the destination country. These requirements can widely vary from one country to another, so it's essential to research and prepare well in advance if you plan to travel internationally with your pet.
Pet Passports have streamlined the process of travelling with pets, as they provide a standard way to demonstrate a pet's health and vaccination status to customs and border control authorities.
How Much Does A Pet Passport Cost?
The cost of obtaining a passport can vary depending on several factors, including the specific requirements of your destination country and the services provided by your veterinarian.  Here are some common expenses associated with getting a pet passport:
Vaccinations: Necessary vaccinations, such as rabies, may be required for your pet to obtain a pet passport. Vaccine costs vary depending on the type of vaccination and where you receive it.
Blood Tests: Some countries require specific blood tests to ensure your pet is adequately protected against diseases. These tests can add to the overall cost.
Additional services: Depending on your travel plans, you may need additional services such as pet transport, quarantine, or specialised health certificates. These services come with their own associated costs.
The primary cost of obtaining a pet passport comes from the veterinary services required to prepare your pet for international travel. To get an accurate estimate of obtaining a pet passport for your specific situation, get in touch with Local Vets. We can provide you with a breakdown of the expenses based on your destination and your pet's individual pet's needs. Keep in mind that pet passport costs can vary greatly, so its advisable to plan well in advance and budget accordingly to ensure a smooth stress-free travel experience.
Why Choose Local Vets for Your Pet Passport?
Local Vets offer a comprehensive and personalised approach to obtaining a pet passport. Their expertise, local knowledge, and commitment to your pet's well-being make them an excellent choice for ensuring a hassle-free and successful pet travel experience.
Expertise in Pet Travel: Local Vets specialises in pet passport services, ensuring that your pet's travel documentation meets all necessary requirements. Their in-depth knowledge of international pet travel regulations and procedures minimizes the risk of errors and complications.
Convenient Location: Our facilities are conveniently located in Oldbury and Halesowen, making is easy to access our services. The proximity of Local Vets allows for quick appointments, easy communication, and efficient coordination of the pet passport process.
Personalised Care: At Local Vets, your pet receives personalised attention from a team that cares about their well-being. This individualised approach ensures that your pet's unique health and travel needs are met with the utmost care and consideration.
Local Knowledge: Local Vets understand the local requirements and regulations for your pet passports in your region, ensuring that all necessary vaccinations, tests, and paperwork are completed correctly. This local expertise can streamline the process and prevent unnecessary delays.
Familiarity With Your Pet: Local Vets has an existing relationship with your pet, which can contribute to a stress-free experience. Their familiarity with your pet's medical history and temperament ensures that all health examinations and treatments are conducted with sensitivity and care.
Peace Of Mind: Choosing Local Vets for your pet passport gives you confidence that you are following the correct procedures and complying with all local and international regulations. This peace of mind ensures a smoother, less stressful experience for both you and your pet.
Looking to obtain a pet passport for hassle-free international travel with your pet? Contact Local Vets today to ensure a smooth and stress-free experience for you and your pet. Our experienced team specialises in pet passports and will guide you through the process with care and expertise. Learn more about what we offer as part of our pet passport service here.
http://+441217168000Halesowen
Call us: 0121 296 7776 (24 hours)
Email us: info@localvets.co.uk
Pay us a visit
Local Vets (Halesowen), Bromsgrove Road, Halesowen, West Midlands, B63 3JJ
Phone: 0121 296 7776
Monday: 9am – 6pm | Tuesday: 9am – 6pm | Wednesday: 9am – 6pm | Thursday: 9am – 6pm | Friday: 9am – 6pm | Saturday: 9am – 5pm
Oldbury
Call us: 0121 716 8000
Email us: info@localvets.co.uk
Pay us a visit
LocalVets LTD (Oldbury) , Wolverhampton Road, Oldbury, West Midlands, B69 2BH
24 Hour Line: 0121 716 8000
Monday: 9am – 6.30pm | Tuesday: 9am – 6.30pm | Wednesday: 9am – 6.30pm | Thursday: 9am – 6.30pm | Friday: 9am – 6.30pm | Saturday: 9am – 5pm | Sunday: Emergencies Only