Pet Microchipping Oldbury
Are you looking for professional and affordable Pet Microchipping in Oldbury?  Local Vets is a dedicated vet practice in Oldbury, committed to providing the highest levels of care for your pet. Founded from a love of animals, our experienced teams of vets and nurses guarantee the highest levels of care. Our practice provides a complete range of treatments and services, including Pet Microchipping in Oldbury.
What Is Microchipping?
Microchipping is a quick and safe procedure that sees a small electronic chip inserted beneath your pet's skin. The microchip contains your pet's unique identification number and once scanned, can then be matched to their owner's contact details. No more invasive than a vaccination, the procedure is one of the most effective methods of protecting your pet from being lost or stolen. It is now a legal requirement for all dogs to be microchipped and correctly registered. If you're searching for knowledgeable and reliable pet microchipping in Oldbury, choose Local Vets.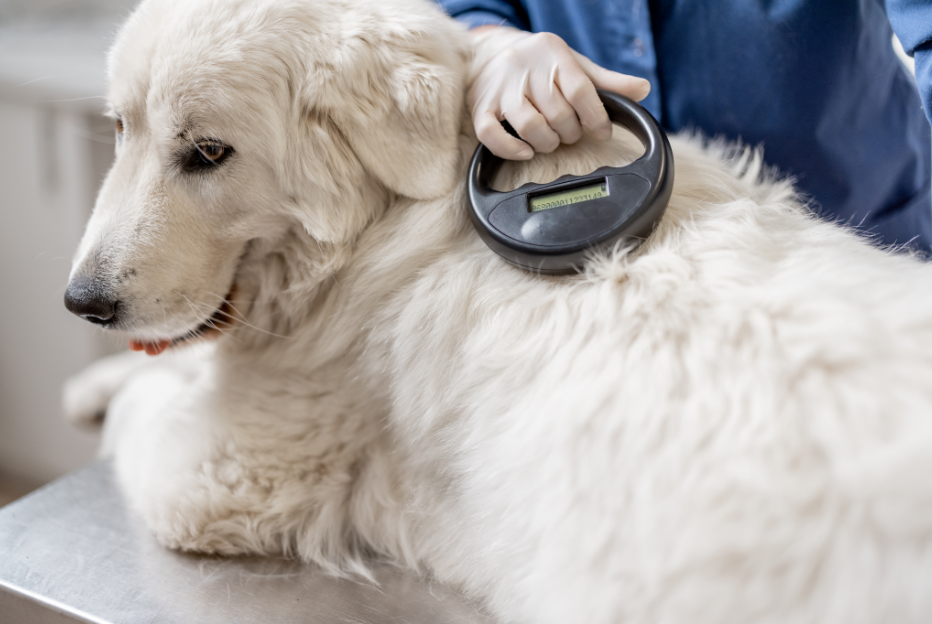 How Does Microchipping Work?
Have you been looking into pet microchipping in Oldbury and questioned how it all works? It is actually very simple. The microchip is about the size of a grain of rice and is inserted under your pet's skin between their shoulder blades. A scanner is used to read the microchip, which will transmit the pet's unique identification number that can then be used to identify and track the rightful owner.
The Benefits Of Microchipping
Microchipping is one of the best ways to keep your pet safe. Experts from Local Vets, a veterinary clinic that specialises in pet microchipping in Oldbury, talk us through the benefits of the procedure:
Lifelong Efficiency - Microchipping is a permanent procedure. The chip itself is durable and tiny in size, meaning it is averse to damage and rarely stops working.
Painless Procedure – It is natural for owners to worry that placing a microchip in their pet's body could hurt, when in fact the technique used is painless. The procedure itself takes seconds, and no anaesthetic is required.
Easy Identification – When animals are stolen, collars and tags can be easily tampered with and the information on them can be rapidly altered. One quick scan of the microchip from a vet or shelter will quickly locate and confirm the pet's rightful owner.
Cost-effective – In the UK, microchipping your pet is relatively inexpensive on average costing between £20 - £30. Get in touch with Local Vets for details on costs for pet microchipping in Oldbury.
What Happens With My Details?
Your details will be stored on a national database. The local authority, veterinary practice or animal welfare organisation will be able to contact the database to find the owner's details. Every time you need to amend your contact details, you may have to pay a fee. Most databases offer a premium service that entitles owners to unlimited changes which can work out cheaper over the course of your pet's life. Every year, thousands of animals are unable to be reunited with their owners because their microchip details are not up to date.
What's The Law On Microchipping?
It is now a legal requirement that your pet is microchipped. Here at Local Vets, we specialise in pet microchipping in Oldbury, and we routinely scan your pet when you register at the clinic so we can advise you if your dog is chipped or not. Owners of pets without a microchip found by local authorities could face a fine of up to £500 if they fail to comply with the law.
Choose Local Vets for Pet Microchipping In Oldbury
We are a small and professional veterinary practice based in Oldbury; we guarantee the best treatment for your pets. Our clinic is welcoming and professional, and we offer pet care and treatments that span the entire veterinary care spectrum. As well as pet microchipping in Oldbury, we offer a range of treatments including 24-hour emergency care, neutering, vaccinations and more. With our state-of-the-art tools, and a team of dedicated and compassionate vets and nurses, we strive to make each animal's well-being our priority.
Book Pet Microchipping Today
If you're searching for pet microchipping in Oldbury, choose Local Vets for professional and quality service. Book an appointment at our Oldbury facility by calling us on 0121 716 8000 or alternatively book online here.
http://+441217168000Halesowen
Call us: 0121 296 7776 (24 hours)
Email us: info@localvets.co.uk
Pay us a visit
Local Vets (Halesowen), Bromsgrove Road, Halesowen, West Midlands, B63 3JJ
Phone: 0121 296 7776
Monday: 9am – 6pm | Tuesday: 9am – 6pm | Wednesday: 9am – 6pm | Thursday: 9am – 6pm | Friday: 9am – 6pm | Saturday: 9am – 5pm
Oldbury
Call us: 0121 716 8000
Email us: info@localvets.co.uk
Pay us a visit
LocalVets LTD (Oldbury) , Wolverhampton Road, Oldbury, West Midlands, B69 2BH
24 Hour Line: 0121 716 8000
Monday: 9am – 6.30pm | Tuesday: 9am – 6.30pm | Wednesday: 9am – 6.30pm | Thursday: 9am – 6.30pm | Friday: 9am – 6.30pm | Saturday: 9am – 5pm | Sunday: Emergencies Only