Are you looking for a professional and affordable pet microchip service? Local Vets is a dedicated veterinary clinic that is committed to giving your pet the best possible care. Our skilled team of vets and nurses promises the best possible treatment for your pet. Founded on a love for animals, Local Vets provides a complete range of treatments, including a pet microchip service. With a pet microchip, you and your animal have the best possible chance of being reunited if the unthinkable – being lost or stolen – occurs.
A pet microchip procedure is a quick and safe process that sees a small electronic chip inserted beneath your pet's skin. After being scanned, the microchip can be used to match your pet's unique identification number to their owner's contact information. The pet microchip is not any more intrusive than a vaccine, and it's one of the best ways to keep your pet safe from theft or loss.
In the UK, it is now a legal requirement for all dogs to be microchipped and correctly registered, but a pet microchip can also be used to help identify many other pets and domesticated animals as well including rabbits, lizards, snakes, and even turtles or tortoises.
How does a Pet Microchip work?
The way a pet microchip works is actually very simple; the microchip is about the size of a grain of rice and is inserted under your pet's skin between their shoulder blades. The electronic chip has a protective shell which helps prevent the pet microchip from causing any irritation to your animal and helps stop it from moving around under the skin.  A scanner is then used to read the microchip, and your pet's unique identification number is transmitted, allowing the animal's rightful owner to be identified and tracked.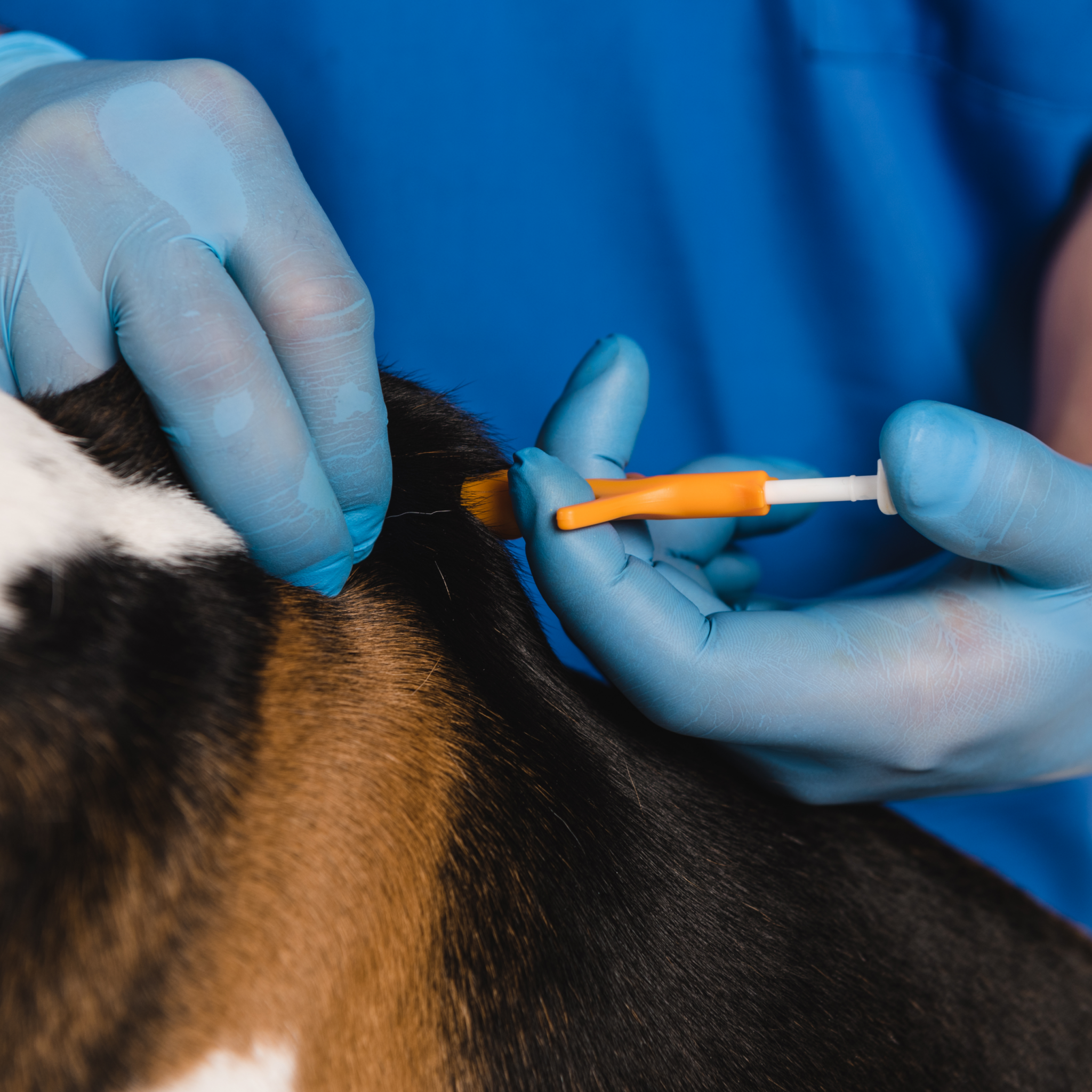 What Happens At My Pet Microchip Appointment?
Once you've booked your pet microchip appointment with Local Vets, one of our skilled veterinarians will use a needle to place the microchip under your animal's skin. The procedure is relatively painless; however, the needle is sharp so may cause some animals to flinch or react when it is inserted.
The Law On Pet Microchipping
In the UK, it is a legal requirement that your dog is microchipped.  Furthermore, as of June 2024,  it will also become the law for all cat owners in England to have their cat microchipped by 20 weeks of age. Despite it not being a legal requirement for all domestic animals to have a pet microchip, we do recommend rabbits, guinea pigs, ferrets, and tortoises get microchipped. Notorious escape artists, a pet microchip in these smaller animals makes it easier to be reunited if this does occur.
The Benefits Of A Pet Microchip
A pet microchip is one of the best ways to ensure your pet's safety. Experts from Local Vets, talk us through the advantages of the procedure:
Efficiency For A Lifetime: A pet microchip is a permanent procedure yet it enables the flexibility to change the details and information held on the chip with ease. The chip itself is small and resilient, so it is resistant to damage and rarely stops working.
Painless Procedure: Although it is understandable for pet owners to be concerned that their pet might experience pain during the pet microchip procedure, the technique used is painless. The process itself takes seconds, and no anesthetic is required.
Easy Identification: Collars and tags can be easily tampered with and information about stolen animals can be quickly changed. Locating and verifying the pet's true owners is as simple as scanning the pet microchip and can be done at any veterinarian or animal shelter.
Cost-Effective: In the UK, a pet microchip service is comparatively cheap, typically costing between £20 and £30. Contact Local Vets to find out how much a pet microchip for your pet will cost.
Choose Local Vets for A Pet Microchip
At Local Vets, our small and professional veterinarian clinics promise to give your animals the best care possible. With services spanning the whole range of veterinary care, our clinics are welcoming and friendly. In addition to our pet microchip services, we provide a range of treatments and procedures including 24-hour emergency care, neutering, and vaccinations. We work hard to make every animal's welfare our top concern, supported by a team of committed and caring veterinarians and nurses, as well as our state-of-the-art-equipment.
Book A Pet Microchip Appointment Today
Choose Local Vets for professional and quality pet microchip service. Book an appointment online here or by calling us on 0121 716 8000.